Reel
It is possible to work with one or more movie files in your project.
To be able to work with movies, you need to create a reel. There are several ways to do this:
•Drag and drop a movie file into the subtitler window. Lemony Pro will recognize the file and automatically create a reel for you.
•Or use menu Reel / Add new reel from file.
Once you have created a reel, in the explorer you can see a new reels track which contains a reel.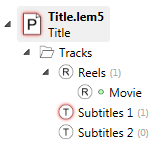 You can have several reels (movies) in your project, but only one can be active at a time. The active one is the one that will be displayed in the monitor.
You can see in the explorer that the active reel has a green marker.
To make a reel active, use its context menu and click Use. Or in the subtitler use menu Reels / Select reel.
Calibrate
To synchronize the movie's timecode with your project's timecode, use the calibrate window.
You can display this window via menu Reel / Calibrate, or by selecting Calibrate in the reel's context menu,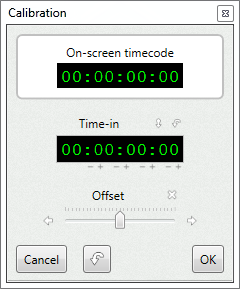 If your movie has burned-in timecode, you only need to enter in the On-screen timecode field the time you see in your movie.